At Brandywine Insurance Group, we are a full-service Independent Insurance Agency
We represent over 20 different insurance companies. We provide objective options for our customers who are looking for the best coverage at the lowest cost possible. We pride ourselves on excellent customer service and getting back to our customers with answers as quickly as possible."
Their work ethic and experience come through in every transaction they execute.
"We are very professional and thorough in our approach but we also have a lot of fun in the office, too, making jokes, teasing each other and having great conversations with our customers. We want to get to know you like you are a friend or neighbor of ours."
In addition to a successful business, both men are proud of their personal lives and the families, friends and connections they have built.
Chris and his wife, Amanda, have a beautiful little boy, Rocco, age 1, and spend their free time enjoying him and playing outdoors or with neighbors eating dinners together, going to the beach or doing family activities.
Gregg's family plays an important part in his life, too. He and his wife, Sandy, have three children, Caitlyn, 18; Ava, 9 and Riley age 4 and they likewise enjoy the beach and spectating at the kids' various sports events.
The Moore family also has four-legged family members: Cupcake, who is three and a half years old, and Gracie, who is two.
Why do business with Brandywine Insurance Group?
Unlike a captive, or direct insurance company who only offers their own proprietary products, our agency is 100% independent of any one company. Many insurance consumers don't fully understand just how important that really is.
When it comes to something as important as insurance, it's imperative that you work with an agency who has an in-depth knowledge of multiple insurance products, companies, and guidelines — not just one.
At the end of the day, what separates one agent from another, is their ability to proactively service their policy holders, and their knowledge of the insurance industry, products, and different situations that may present themselves to their clients.
Independent Agent Vs. The Rest
Here is a quick comparison of the differences between an independent agency like us, and the various other types of companies that are out there: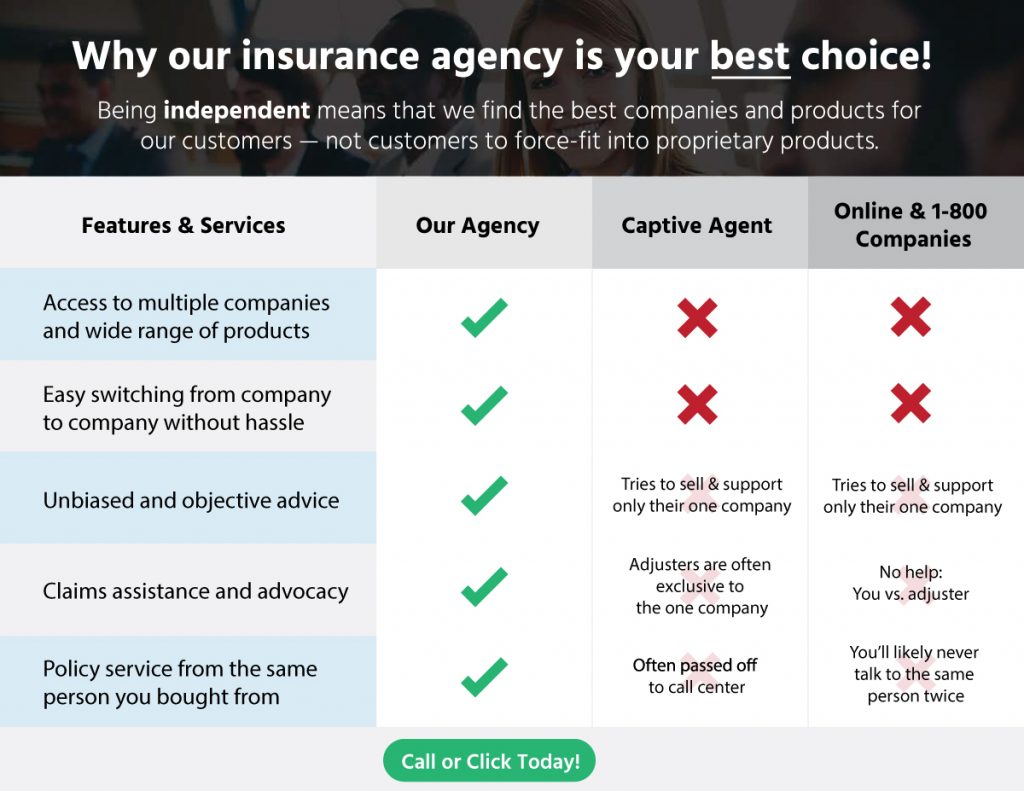 If you'd like to get started with a complimentary quote and/or policy review, we'd be happy to help you any way we can. Simply complete the fields below to get started online in a matter of seconds.
We appreciate the opportunity to help you, and look forward to servicing your insurance needs! Feel free to call us directly if you have more detailed questions.